Hey there! I'm Cynthia.
I am a Publicist, Lifestyle Blogger, Southern Belle and Dallas Influencer. I am a Mom (but not a Mommy Blogger) who is socially savvy, fashionably connected and seeking to inspire. If you are looking for an influencer to help create buzz for your brand in Dallas, you have come to the right place. Many consider me THE go-to resource for what's happening and who you need to know in Dallas. I've been featured on CultureMap, ABC's Good Morning Texas, Dallas Child, CW33, FOX 4's Good Day, KVIL radio, VoyageDallas and D Magazine's ShopTalk (among others). Look close, and you will frequently spot me on Bravo TV's Real Housewives of Dallas. I am a regular Lifestyle Contributor to Good Morning Texas on WFAA/ABC, the Dallas Editor for The Society Diaries and a Contributor for Dallas Hotel Magazine. My passion is being a connector and whether it's through my role as a Publicist for Gangway Advertising or through my personal blog, I love to shine a spotlight on the people, places, events and services that give Dallas its flavor.
"From food to fashion, reality TV to movie premiers, cultural events to business deals, Dallas is happening and you'll find me right in the middle of the action." - Cynthia Smoot
I spend my days at Gangway Advertising creating social media strategies and handling media relations to keep my clients in the news and on TV. My work also includes creating and managing blog content, creating and executing events and overall market strategy to keep clients top of mind in the local market. I've worked with many of Dallas' top brands including Truluck's, Blushington, MiniLuxe, The Shops of Highland Park, Terra Mediterranean, Ese Azenabor, Bread Winners Café, Dee Lincoln Prime and more. I also love using my platform to shine a spotlight on the many non-profits that serve Big D including Pat & Emmitt Smith Charities, Unlikely Heroes, KidLinks, Cheer 4 Your Life, and Ally's Wish. "Creating buzz for your brand" is Gangway's motto and I thrive on helping local brands stay in the spotlight.
Nice to meet you.
XOXO,
Cynthia
What makes an Cynthia Smoot an Influencer?
Influencers are normal people, who are often connected to key roles of media outlets, consumer groups, industry associations or community tribes. Such individuals are not simply marketing tools, but social relationship assets. I like to think of myself as a connector. Success in life is as much about WHO you know as WHAT you know - and I, know EVERYBODY. Let me help you amplify your brand.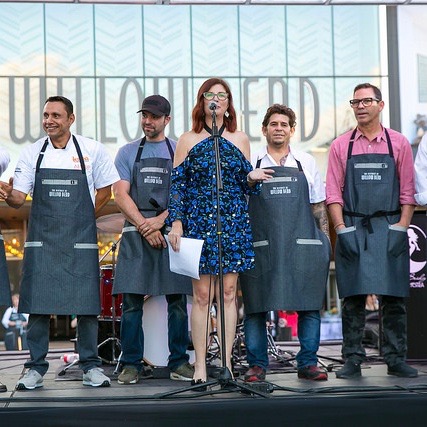 media APPEARANCES
From local morning show appearances to magazine articles, appearing on podcasts to chatting it up with radio DJ's, I love sharing new retail and restaurant finds, giving tips and tricks to navigating the city and divulging insider information about what's happening in and around Dallas. I am a fixture on the society scene and can often be found in the party recaps for Dallas' hottest events rubbing elbows with our city's most famous (and infamous) citizens (where do you think I get all my best scoop from!?).
freelance writer
Not only do I share news about Dallas' hottest events and coolest people on my personal blog, but I also freelance for other print and digital publications to share my love for Big D. Currently, I am the Dallas Editor for The Society Diaries, and a regular Contributor for Dallas Hotel Magazine. Interested in having my voice in your publication or on your blog? Reach out to me through the Contact Form at the bottom of this site.
brand partnerships
One of the things I enjoy the most is discovering an exciting new brand, product or service and sharing it with my readers and followers. From where I go and what I eat and drink, to the outfit and shoes I am wearing and the events and activities I participate in - they all speak volumes about who I am and what I endorse. Click the button below to see past partnerships and then connect with me through the Contact form at the bottom of this website to visit about how we might work together!
For brand partnerships and booking inqueries, please fill out the contact form below.